Dixie Southern Racing Pigeon Association
---
Our Races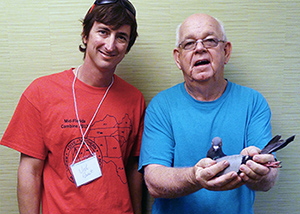 Josh Guest & Larry Marshall, Handler & Breeder,
The Winners of the 2017.
Pigeon's band number: AU 2017 MAC 7870This is the link for the most current, the 2017 Dixie Southern Convention Race Results.
All Dixie Southern Races, including Dixie Convention Race, are being posted on Racing Pigeon Mall website.
Please open this link to get there.
Once on the website, go and choose Race Results from their navigation bar, then proper Year's Database, following by choosing Club/Organization, and finally your particular Race you're looking for.
---

Past Dixie Southern Convention Race Winners

| YEAR | HOST | BAND NO. | BREEDER | HANDLER | BIRDS | LOFTS |
| --- | --- | --- | --- | --- | --- | --- |
| 2017 | Mid-Florida Combine | AU-17-MAC-7870 | Larry Marshall | Josh Guest | 253 | 18 |
| 2016 | Mid-Florida Combine | AU-16-ARPU-1603 | Jay Holder | Ray Donawa | 271 | 27 |
| 2015 | Mid-Florida Combine | AU-15-LCF-6352 | Arthur Vega | Nelson Escudero | 222 | 28 |
| 2014 | (NARPC) Atlanta, GA | AU-14-CHT-2027 | Gabriel Lopez | Julio Hernandez | 125 | 14 |
| 2013 | Chattanooga | AU-13-LFO-713 | Terry Lynn | Alvin Petty | 356 | 17 |
| 2012 | (NARPC) Atlanta, GA | AU-12-IHC-5548 | Triple W Loft | Bob Travares | 302 | 19 |
| 2011 | Atlanta, GA | AU-11-CHT-443 | Adil Hrnic | Derrick Humphreys | 285 | 18 |
| 2010 | Lebanon, TN | AU-10-RMW-10017 | Michael Wulgaert | David McMinn | 179 | 12 |
| 2009 | Spatanburg, SC | AU-09-GHC-13091 | Dave Donnelly | Billy Johnson | 158 | 9 |
| 2008 | Jacksonville, FL | AU-08-COC-4142 | Timothy D. Byers | Laura Cloud | 219 | 11 |
| 2007 | Lebanon, TN | AU-07-CHT-107 | Adil Hrnic | Sharon Williams | 308 | 11 |
| 2006 | Atlanta, GA | AU-06-CHT-1108 | Randall / Kenneth | Cristian Buzila | 339 | 18 |
| 2005 | Chattanooga, TN | AU-05-NFL-725 | Tom Nettis | Alvin Petty | 349 | 13 |
| 2004 | Norfolk, VA | AU-04-PCG-132 | Victor Buck | Tom Kemph | 427 | 12 |
| 2003 | Atlanta, GA | AU-03-CGA-543 | Ed Berdeaux | Dorsey Thomas | 123 | 13 |
| 2002 | Brooksville, FL | IF-02-SAV-737 | Buddy Padgett | Lorefice | 194 | 30 |
| 2001 | Deland, FL | AU-01-GPS-3584 | Tom Nettis | Randy Dean | 240 | 24 |
| 2000 | Deland, FL | AU-00-MPK-0251 | Tom Nettis | Randy Dean | 378 | 20 |
| 1999 | Atlanta, GA | AU-99-SAV-318 | Mike Anika | Tim Gago | 237 | 17 |
| 1998 | Jacksonville, FL | AU-98-DEL-1865 | Richard Karle | B. Petzel | 310 | 21 |
| 1997 | Deland, FL | AU-97-GA-2663 | Walter Zebrowski | Kimberly | 534 | 21 |
| 1996 | Fayetteville, NC | AU-96-SAV-143 | Mike Anika | Joe Perez | 331 | 15 |
| 1995 | Savannah, GA | AU-95-DEL-2136 | Bill Kempke | J. Morgan | 282 | 26 |
| 1994 | Chattanooga, TN | AU-94-BIL-4113 | Leslie Montgomery | Joe Croker | 472 | 17 |
| 1993 | New Orleans, LA | AU-93-DS-1145 | Floyd Goodyear | Williams & Son | 268 | 22 |
| 1992 | Jacksonville, FL | AU-92-PORT-1033 | Ted White | Doyle | 388 | 15 |
| 1991 | Chattanooga, TN | AU-91-GRPC-115 | John Jirik | Joe Croker | 287 | 20 |
| 1990 | Fayetteville, NC | IF-90-TCA-4332 | Skip Walston | David Glover | 377 | 10 |
| 1989 | Atlanta, GA | AU-89-CGA-281 | Ed Berdeaux | Rich Winnie | 178 | 20 |
| 1988 | Jacksonville, FL | AU-88-OCAL-1009 | J. Frank | Anderson | 302 | 12 |
| 1987 | Charleston, SC | AU-87-JR7-448 | Tom Smith | Wade Shrivalle | 337 | 30 |
| 1986 | Macon, GA | AU-86-JR6-298 | Bill Mitchel | Hampton | 200 | 10 |
| 1985 | Atlanta, GA | AU-85-SFL-246 | Reynolds | Rich Winnie | 178 | 16 |
| 1984 | Savannah, GA | AU-84-HRP-221 | George Walters | Teague | 215 | 13 |
| 1983 | Jacksonville, FL | AU-83-INC-3276 | Needham | Jim Wiley | 255 | 17 |
| 1982 | Hampton, VA | AU-82-SER-1494 | Pete Perinciaro | John Beran | 219 | 36 |
| 1981 | Charleston, SC | AU-81-SAV-480 | Mike Anika | Wade Shrivalle | 268 | 27 |